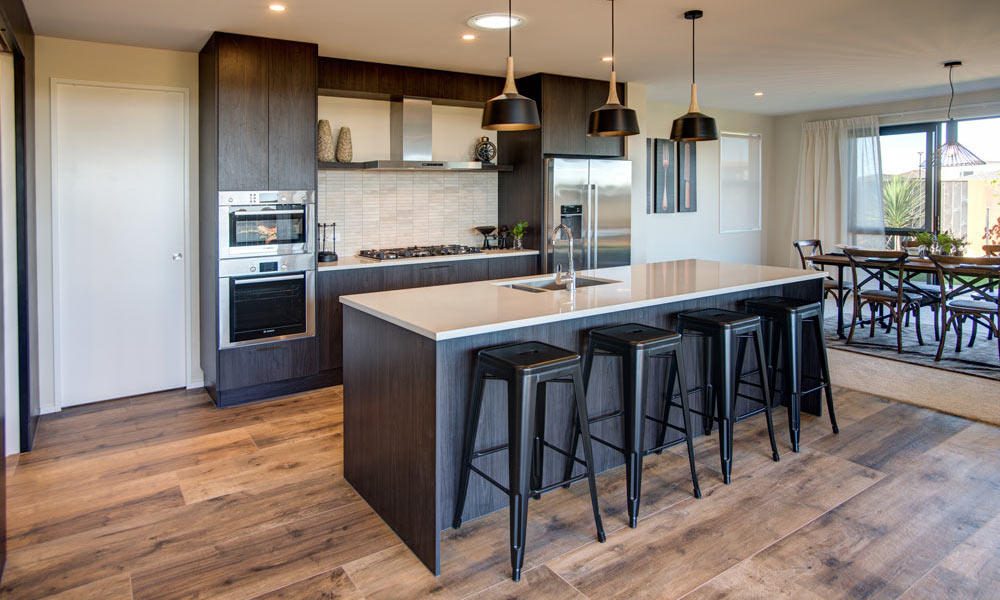 Elite Kitchen Series Part 4…
Kitchen Cabinet Materials And Finishes
Choosing cabinet materials and finishes will affect the look and feel of your kitchen so requires careful thought. Part of the decision will be affected but your budget and by how you live in your kitchen day to day – some materials are more hardwearing and better suited for the rough and tumble of a growing family or a rental property
Some of the commonly used cabinet materials in today's kitchens are:
1. Melteca
This is a brand name for a scratch resistant melamine surface laminated to an MDF board. It is the most cost effective solution and comes in a wide range of colours and surface finishes – gloss, velvet, woodgrain, and embossed.
Melteca and other similar products are a good solution when budget is an important consideration and when a hardwearing solution is needed such in young family or rental situations. But budget and hardwearing does not mean cheap looking, there are many stunning award winning kitchens made from melteca.
2. Thermoformed
Thermoformed panels are wrapped in a thin vinyl membrane heat-treated and bonded to a melamine backed MUF surface. This product is extremely durable, scratch and chip resistant. Available in multiple colours, finishes and detailed profiles.
3. Acrylic
Acrylic panels are hi-gloss panels manufactured using stylelite high-gloss acrylic board. Acrylic panels are laminated double sided using polyurethane hot melt bonding method which creates an ultra hi-gloss ripple free surface. Also edged in acrylic creating a seamless appeal whilst preventing UV and colour fade. Acrylic does not chip or delaminate, minor scratches and scuffs can be removed and polished out. Currently Acrylic panels are only available in a limited colour selection.
4. Lacquer/Paint Finish
Painted cabinetry finishes allow for a wide range of custom or selected colours, satin and gloss levels. Painted panels are painted both back and front and as a result have a 3mm radius seamless edge detail. There is capability to upgrade your two-pot lacquer with more durable, UV resistant and hard wearing finishes e.g. Italian polyurethane. Painted finished can accommodate any profile or handle selected. While lacquer finishes can be repaired it can be less hardwearing than other options, and can chip if knocked which means it may be less suitable in a rental property or in a growing family situation.
5. Timber Veneer
Timber Veneer panels provided from the species of your choice e.g. Oak, Kauri and Rimu are usually coated with a clear lacquer or stain to enhance the performance and sustainability, as well as achieving the desired colour finish. All veneers differ even within the same species so there will be small variations in grain from sheet to sheet throughout your kitchen.
Not All Kitchens Are Created Equal
It is important to make sure you look behind the finish to make sure you will not be palmed off with poor quality materials and construction that will shorten the life of your kitchen.
Particle-board is often used in cheap or imported kitchens and should never be used in any part of the kitchen or bathroom as any dampness will quickly disintegrate the board. Cheap hardware is just that and will quickly fall apart. Cheaply made cabinets will quickly degrade and have a short life.
Elite Kitchens and Cabinets build kitchens to look as good as the day they were installed by using solid backs, moisture resistant board, solid timber rails that will not rot out, pegs for extra strength, and top European hardware with a lifetime warranty.
Contact Elite Kitchen And Cabinets
Come and visit Elite Showroom and its team of four designers to discuss your new kitchen, or give us a call for a free no obligation chat.
Elite has been a kitchen and cabinet manufacturer since 1958 and you will save money be dealing direct with a manufacturer, as well as receive an old fashioned service at a fair price.
The Elite Kitchen Series
Please see also our other articles in the Elite Kitchen Series on: