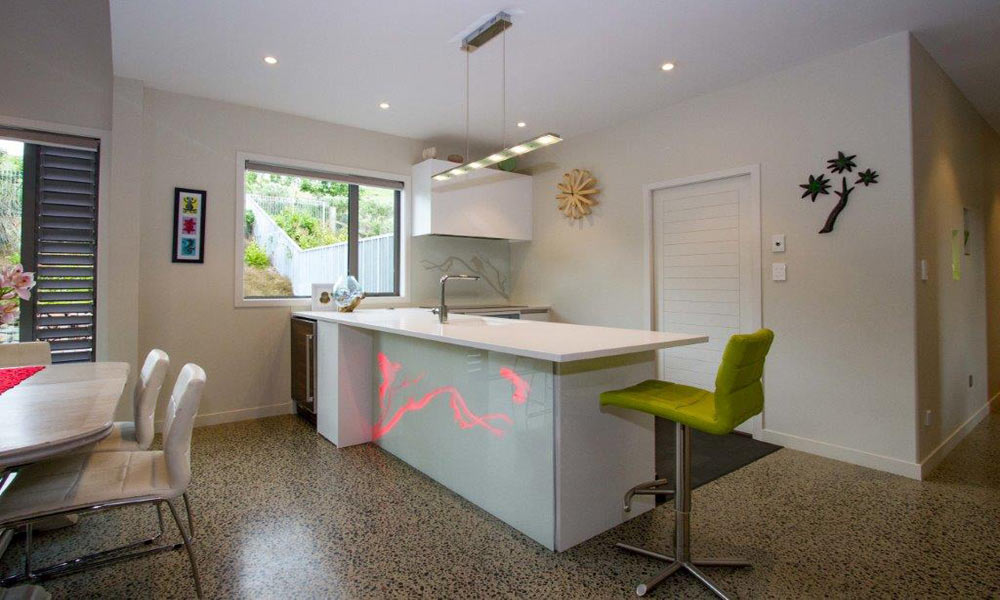 Design Your Dream Kitchen.
As the traditional hub of the home, it's important to remember taking the time to design your dream kitchen is always an investment that will increase the value of your home. However, like many things these days, kitchen design is constantly changing, as new materials and technologies come onto the market. Of course, the huge variety of kitchen options available can make it all seem a bit daunting to know just what to do to create the kitchen of your dreams.
So here at Auckland kitchen company Elite Kitchens and Cabinets, we've made the entire process a whole lot easier for you to design your dream kitchen.
With a number of show kitchens to browse through at our showroom at 64 Hunua Road in Papakura and a team of on-site kitchen designers to answer all your kitchen design questions, and walk you through the kitchen design and installation process, achieving your dream kitchen couldn't be easier.
With almost 60 years under our belt as one of Auckland's leading designers, manufacturers and installers of custom-built kitchens, we offer a wide range of tailored solutions to suit every taste and space.
Even more good news is that we recently installed the first of our new show kitchens in our Auckland kitchen showroom, and invite you to come and take a look for yourself – and be inspired to take the next step to your dream kitchen.
Behind The Scenes At Our New Showroom Kitchen
"As a working kitchen, our new showroom kitchen reflects 2017's trend towards moodier, richer, darker colored cabinetry with wooden accents," says Hamish Ross, Director of Elite Kitchens and Cabinets.
The darker cabinetry of our new showroom kitchen is complemented by a concrete-look bench top – here are all the details:
Cabinetry

: Laminex "Bullet" Melteca Panels in Laseredge; Laminex Polished Oak Veneer overheads.

Benchtop:

Caeserstone "Fresh Concrete" bench top and waterfall end, with a Heritage Robin 500 sink.

While a kitchen should always be a space that feels good to be in, inspired kitchen design is much more than merely having beautiful cabinets and sleek benchtops. What goes on behind and below the surfaces is equally important to ensure your kitchen remains uncluttered and everything is stored neatly – but can still be found in a jiffy.

That's why, when it comes to designing the ideal kitchen, we know how important it is to get the three essential features of a successful kitchen right, namely, good workflows, enough storage space, and quality materials. So our new showroom kitchen also offers the following quality features:

Drawers:

Blum Antaro drawers, showcasing Blum's characteristic minimalist design.

Fittings

: Blum flap stays; Blum orgaline cutlery and utensil trays; Blum plate holders; Blum plastic wrap and foil dispensers; Blum Ambialine storage; Blum knife block and Blum space rack; A Hafele oil pullout; Hafele Revo 90 corner unit; Hafele iMove overhead shelf pull-down; Hafele winerack; Hafele lighting.

Water Dispenser:

Billi instant hot/cold water. Remember, a kitchen is an investment that should add long-term value to your home. So, always choose a kitchen that is solidly built and full of quality fixtures and features. Then, not only will it last for years but the return on your investment will also far outweigh the initial kitchen cost.

Design Your Dream Kitchen – Book Your Kitchen Design Consultation
Has our new showroom kitchen inspired you to design a new kitchen for your home?
Irrespective of whether you're looking for a brand new kitchen or need to do a kitchen renovation, simply call us today on 09 298 8388 or pop into our showroom at 64 Hunua Road in Auckland's Papakura to see a range of innovative, modern and traditional kitchen designs, featuring various styles and finishes.
You'll also be able to talk to one of our experienced in-house kitchen designers, who will help you create a kitchen layout that fits your budget as well as your exact floor space and specifications.
So, what are you waiting for? Design your dream kitchen today!
No matter which kitchen trend you feel will best reflect the look that you're after for the hub of your home, we at Elite Kitchens and Cabinets will be able to tailor a kitchen design that will meet all your needs.
Take the first step to your new kitchen or kitchen renovation by calling us now on 09 298 8388 or book your FREE kitchen design consultation here.