Do you want to invest in a new kitchen that will keep looking good for a long time? In this article our Auckland kitchen designer takes a look at how going with a reputable kitchen manufacturer who uses high-quality kitchen hardware is the only way to ensure kitchen hardware design ideas that deliver optimal, long-lasting performance with style.
Have you ever stepped into a home and felt immediately captivated? Chances are it had something to do with the details and finishing touches of the space. Details and finishing touches are even more crucial when it comes to creating a truly efficient and functional heart of any home, the kitchen. Kitchen hardware design ideas that deliver the right finishing touch definitely make all the difference to a kitchen – and can add significant value to your home.
Kitchen Hardware Design Ideas To Make Your Next Kitchen A Great Kitchen
Any kitchen is going to look beautiful and smart on its first day. However, the tell-tale sign of a really good quality kitchen is how it dates, how it holds up and how it feels when you're using it. That's why beautiful kitchen cabinet design is only the first step in a quality kitchen. What's inside or behind the scenes, so to speak, is even more important for ensuring long-lasting quality and functionality. And when the time comes to sell your home, the quality feeling of your kitchen cabinetry could be just the thing to push that potential buyer over the line.
With almost 60 years' experience in designing, manufacturing and installing kitchens in New Zealand we've built a reputation for quality that sees leading home builders, architects and kitchen designers choose Elite Kitchens and Cabinets as their kitchen manufacturer and supplier. People have come to know that our kitchens combine the very latest styles with some of the best quality European kitchen hardware such as that available from Häfele.
The name Häfele is synonymous with innovation, quality and engineering. This German manufacturer's innovative kitchen fittings, hardware and systems, and smart storage solutions, improves the way a kitchen works in every way possible. As a proud distributor of Häfele products we're able to incorporate their high-quality kitchen hardware in our kitchen cabinet designs.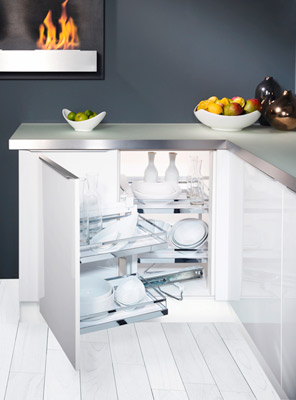 Why Does Great Kitchen Cabinet Design Make Such A Difference?
Like Häfele, we understand how important your kitchen is to you. It really is the heart of your home, and should be designed and built to provide optimal, long-lasting performance that meets all the requirements of your specific lifestyle. This understanding lies behind all the kitchen fittings and accessories we incorporate in the kitchens we design, build and install.
Kitchen cabinets play a major role in whether or not you'll be captivated by your kitchen over the long term. Build quality is crucial, as is the smoothness with which doors and drawers glide open and closed, and the weight they can take. After all, there's really nothing worse than a drawer that doesn't glide smoothly, or drawers and doors that sag as they get older.
Selecting the right high-quality kitchen cabinet hardware, like that of Häfele's, will not only give your kitchen a lifetime of enjoyable functionality, but will also ensure a quality appearance that will make your kitchen a pleasure to use day in and day out.
Quality Auckland Kitchen Designs
If you're planning on investing in a new kitchen then you simply cannot overlook the importance of incorporating design-inspiring kitchen hardware in the manufacture and installation of your kitchen.
As a long-standing manufacturer and installer of Auckland kitchens, Elite Kitchens & Cabinets will design, build and install a kitchen that incorporates the finest quality kitchen hardware from Häfele to provide you with the ultimate peace of mind and enjoyment in your kitchen.
Give us a call on 09 298 8388 to discuss your kitchen design requirements. Or pop into our Auckland kitchen showroom at 64 Hunua Road in Papakura to talk to one of our in-house kitchen designers about how to turn your requirements into a stylish and practical kitchen that'll be the captivating heart of your home for a long time to come.