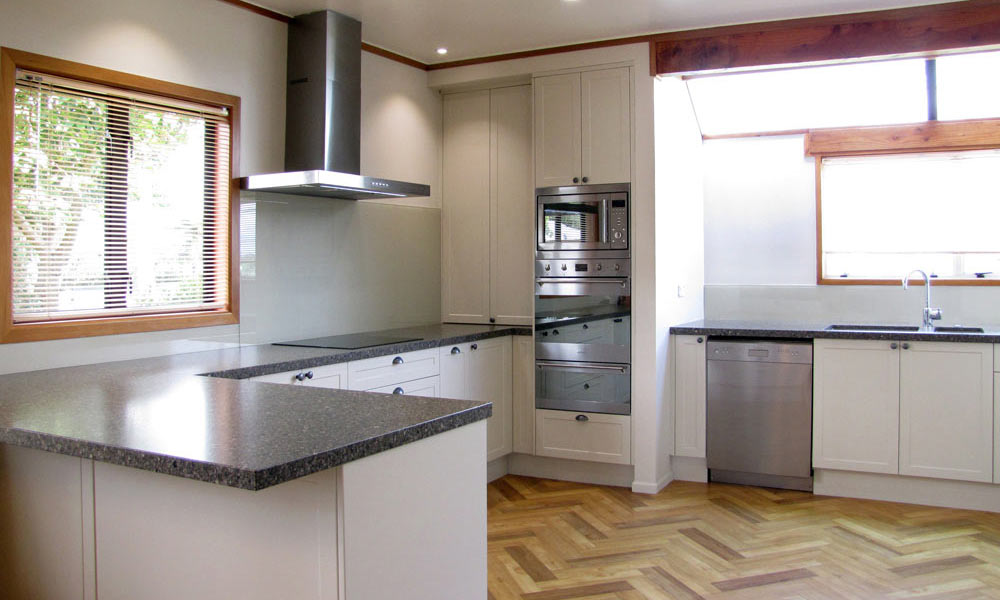 "The Language of Kitchen Benchtops" will explain the terminology your designer or fabricator may use when specifying and showing you the multiple options and the processes behind the benchtops of today.
All About Kitchen Benchtops:
A. Also known as a side panel, it is an additional stone product to a bench top. It begins at the end of the bench top and runs down vertically where it meets the floor.
A. Edge profiles are part of the manufacturing process. It involves applying a border to the stone slab. Examples include: square edge, bevelled, pencil round, half bullnose, full bullnose, shark nose, lambs tongue and mitre (just to name a few).
They also come in different thicknesses: 20mm, 40mm and 60mm etc. This allows the eye to perceive the stone to be thicker.
A. SUBSTRATE* – is a wooden board/MDF. It offers support to the stone. It varies in thickness depending on the edge profile.
A. Mitre Join or Joint: A mitre join is when the edge of the stone bench top has been carved at a 45° angle. Another strip that has also been carved at 45° is then glued to this edge, to form a 90° angle. The match creates a clean finish and does not show a massive join. However this is a more expensive option.
Laminate / Butt Join or Joint:
A butt join is when a strip usually 20mm thick is glued to another (placed together), to form a 90° angle. This is recognised as butting the strip to a bench top/stone piece. This is a more affordable option.
A. Stone slabs most commonly are 20mm in thickness. That is how we purchase them from our stone suppliers. Some suppliers do have 30mm slabs, however they are not as common.
A. A sink cut-out is a standard cut out for a top-mount sink, which is also known as a sink that sits on top of your bench top. An under-mount sink sits between the substrate* and the granite. The hole which is then exposed is polished to create a smooth finish.
A. Slab sizes vary depending on the chosen material. Reconstituted slabs have set sizes depending on the supplier. Natural slabs come in many types of sizes; this depends on where the supplier sources the stone from and how it has been extracted out of the ground.
Honed: Is a matt smooth finish on the stone surface, with low reflectivity
Polished: This is a gloss finish that creates a silky smooth stone surface, which is reflective
Textured: Textured stone creates a split face appearance. It also creates a rough/grain-like finish depending on the chosen stone.
A. A template is a 3mm wooden board/MDF. It sits on top of the substrate and acts as the finished size stencil for what the stone should be manufactured at.