ELITE KITCHEN SERIES PART 1…
Which Benchtop?
Your kitchen benchtop will be one of the central design elements of your kitchen. It will have a strong visual impact, and will receive most use (and sometimes abuse) throughout your kitchens life. Requiring careful thought during selection.
The key drivers when choosing a benchtop with your kitchen designer will be your budget, your desired style and look, and day to day practicality.
The market today provides a wide choice of materials, each possessing differing advantages and disadvantages that need to be considered.

Laminate Benchtops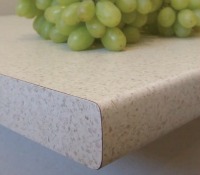 Laminate Benchtops are a popular choice because of their price, durability, and a wide range of colours and finish options. Against laminate is the risk of damage from, hot pots and cutting and chopping directly on surface which can be difficult to repair. A good option when your budget is a significant consideration.
Solid Timber Benchtops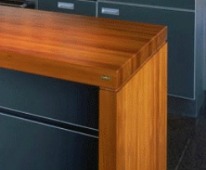 Solid timber benchtops give a unique natural finish to your kitchen and provide a warm natural appeal. Usually coated in two pot poly-urethane or a wood oil to protect it. However they can be higher maintenance and more expensive compared to other alternatives.
Granite Benchtops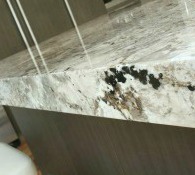 A natural stone provides a unique look. Only slightly less porous than Marble. Granite has good heat and impact resistance, and a good range of colour selection. Light colours can sometimes show stains if the benchtop is not regularly resealed. Some colours cannot easily be mitred thicker due to pattern inconsistency. A good style option for a great organic look in your kitchen.
Marble Benchtops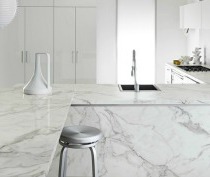 A beautiful natural stone that looks magnificent, however it is porous so potential stains will need to be wiped off immediately. As a result marble benchtops need to be resealed more often than granite. It can be a more expensive option.
Stainless Steel Benchtops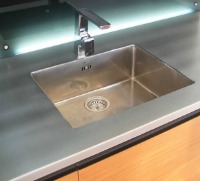 Easy to clean and very hygienic, stainless steel will often be found in commercial kitchens. It is capable of withstanding very high temperatures such as hot cooking pots and pans. A drawback is that stainless benchtops tend to scratch relatively easily, and can be expensive, especially where a number of joins and welds are required. There are a variety of finish options. A good option when hardwearing practicality is most important.
Acrylics
Acrylic has the smoothness and substance associated with stone, combined with the workability of fine wood. Importantly in kitchen environments, acrylic is non-porous and therefore highly durable and easy to maintain. It is also warm to touch and more forgiving on glassware than stone. It is available in many colours. Acrylic is only moderately heat resistant but can be repaired if impact damage occurs. Joins are not visible offering a seemless benchtop finish.
Engineered Stone and Quartz Benchtops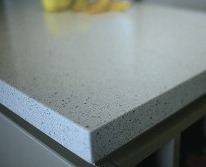 A stone composite benchtop is made up of approximately 95% stone powder/crushed stone and 5% binding agents. It is usually extremely durable and able to withstand high temperatures. It is less porous than natural stone. Depending on thickness, price can sometimes almost compete with higher priced laminates. There is a good colour selection and proves to be a practical alternative to natural stone while still producing a stylish finish.
At Elite we are most happy to accommodate you with the choice of benchtop best suited to you and your lifestyle.
Contact Elite Kitchens and Cabinets today about your new kitchen.