Elite Kitchen Series Part 2…
Splashbacks of Today
Elite Kitchens and Cabinets specialise in the design and manufacture of Kitchens for both new homes and renovation projects, a key feature within your new kitchen is a splashback.
Splashbacks are an essential part of most kitchens, not only to protect the wall against moisture and cooking debris but also adding a decorative design element. There are many different materials to choose from when you are deciding on your kitchen splashback. Each type of splashback creates a different effect some types and styles are listed below
Glass

Glass splashbacks are becoming ever more popular as they provide a clean modern finish to your kitchen and as an added bonus glass is extremely hygienic and easy to keep clean. You can opt for plain glass, textured glass, colours painted behind the glass, or alternatively specific photographic images can be printed on your splashback to give you kitchen its own unique personality. Glass splashbacks can also be easily replaced, giving a fresh look to an existing kitchen. In addition, Elite can get your glass splashback coated with a Eurocoat Surface Protection to help keep your glass splashback clean and healthy.
Mirror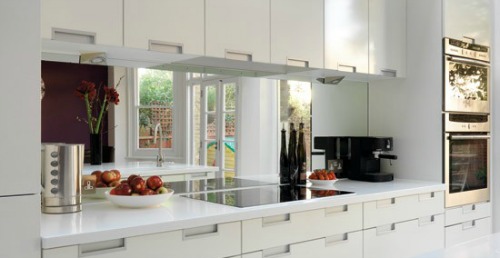 Mirrored splashbacks can open up the kitchen enhancing the feel of a larger space, however it can be difficult to keep clean compared to other surfaces.
Stone

In keep with your selected benchtop, along with being visually effective, stone gives the effect of a much deeper surface and continued flow within your kitchen. Stone also has the benefit of being easy to keep clean if the surface is well sealed.
Tiles

Tiles are a common splashback material, you can choose between many different shapes, colours and patterns to create a individualised splashback. An alternative option is mosaic tiles. These are small tiles that are laid in a sheet form to create some truly stunning design and colour effects. However, it can be difficult to keep the grout clean and free of dirt or stains unless well sealed.
Acrylic

Acrylic splashbacks are essentially a toughened plastic sheet and are available in a range of designs and colours giving a seamless appeal within the kitchen.
Stainless Steel

Stainless steel is a very modern hygienic choice for your kitchen splashback. However, it can easily show smudges, fingerprints, water marks and scratches. Alternatively you can use other metals such as copper or pressed tin which offer similar benefits and added design flexibility.
Whether you are in the market for a new kitchen or starting a renovation project the team at Elite Kitchens and Cabinets will be happy to discuss the best splashback option for you.
Click here to contact Elite Kitchens today!