FOLLOWING THE LAW: THE HAMISH ROSS STORY
It's a long way from Te Awamutu to the top echelons of the America's Cup racing, but for lawyer Hamish Ross it's simply been about climbing progressively bigger hills.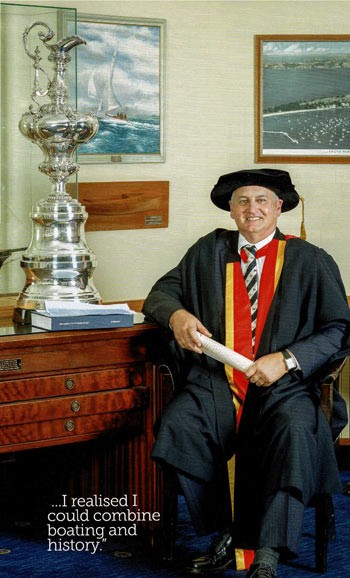 While Ross has provided legal services for four different America's Cup (AC) syndicates over six campaigns, his boating began far more humbly, in dinghies during holidays with his grandparents on Lake Okareka, near Rotorua. "Those were my 'Swallows and Amazons' experiences."
References to books are common with Ross, He's extremely well—read and a history buff to boot. Growing up in Te Awamutu he completed his secondary schooling at Fairfield College in Hamilton, then one of the more progressive schools in the country, becoming head boy during his last year.
Law beckoned as a career and Ross completed a double degree – business and law – at Victoria University in Wellington and then joined law firm, Bell Gully. With the economy booming under the David Lange-led Labour government, he spent the next few years on the upside of business — mergers and acquisitions, and after the 1987 share market crash, the downside — receiverships and bankruptcies.
By 1991 he had made partner and, having experienced small boat sailing and wind surfing, it was time for something more substantial. After six months of looking at all manner of yachts, he found a classic launch at Gulf Harbour. "It was my 'Road to Damascus' moment — I realised I could combine boating and history."
A born researcher, Hamish Ross read everything he could lay his hands on about classic New Zealand boats and decided his boat would be a Logan. After an unsuccessful attempt to buy Victory, he discovered the 1934 Arch Logan designed Little Jim. "She had beautiful lines but a horrible doghouse addition which would have to come off."
He soon had Little Jim restored to her original profile and, with family cruising in mind, her interior was upgraded. After becoming friends with fellow classic yacht aficionados John Gorter, Chad Thompson, and Greg Scopas, the group decided to form an association of classic yacht owners. A month later, May 1995, the Classic Yacht Association (CYA) was launched at a meeting of like-minded sailors at the Ponsonby Cruising Club (PCC).
"The support we [subsequently] got from the other yacht clubs was tremendous — basically unconditional love."
The CYA's formation marked a turning point for classic boats, which had progressively fallen out of favour over the previous decades. It sparked a renaissance of restoration and preservation, with an increasing number of classics being returned to originality.
From the beginning, Ross preached the value of inclusiveness which raised the issue of originality versus practicality. "Better they're out there being used than rotting away in a mud berth somewhere," is his pragmatic attitude.
The PCC set up and ran a separate racing division for the classics and once again Little Jim was racing the likes of Prize, Ngataringa, Moana, and Hinemoa. The CYA later shifted to the RNZYS and has continued to build its membership. There are now over 300 members.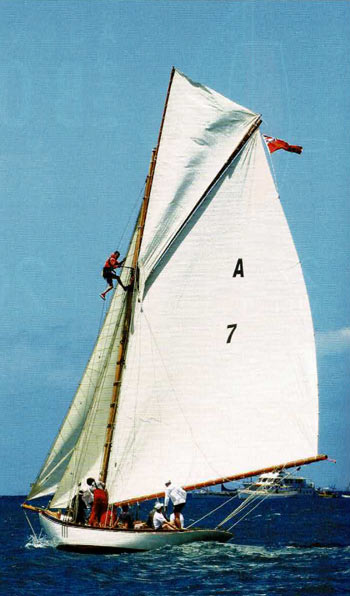 Ironically, Team New Zealand's (TNZ) AC win in 1995 was another milestone in how classic boats were treated With the AC to be held in Auckland in 2000, Ross realised wealthy visiting yachtsmen would find our classic fleet highly attractive and cheap. There was a real danger of priceless local classics being lost to New Zealand forever.
Ross investigated the Antiquities Act, which protected valuable historic artefacts. The Act required that the Department of Internal Affairs approve the export of any boat more than 70 years old.
It was Gorter who'd alerted Hamish Ross and fellow lawyer and boating scribe Harold Kidd to a secret sale of the 1901 Logan Brothers built Iorangi to a Sydney-based yachtsman. Ross and Kidd notified the Department which swung into action and, to cut a long story short, Iorangi was returned to New Zealand. The Iorangi affair drew a line in the sand; New Zealand would not tolerate her classic boats being sold offshore.
"Protecting our classics is the major achievement of the CYA and without it, we wouldn't enjoy the fleet we have today."
Then in 1996 came Hamish Ross' entry in the America's Cup. The New York Yacht Club's Young America campaign approached Bell Gully to provide legal services for its 2000 AC Challenge. With Farr Yacht Design and many other experts on the team, Young America was regarded as one of the top challengers.
Due to his yachting background, Ross headed up the Bell Gully team. One of his first jobs was to buy Chris Dickson's Tag Heuer NZL39 as a trial horse. Young America had to defend itself against many protests, and Ross was soon heavily involved. "The pressure inside an AC campaign is immense, there's millions at stake."
But after Young America's USA53, helmed by Ed Baird, nearly sank, the crew lost confidence and were eliminated from the Louis Vuitton Cup before the semi-finals. Ross watched from the sidelines, as a dominant TNZ demolished Prada five-nil.
From the outside, TNZ looked tight, but all was not well within. The late Sir Peter Blake had already left TNZ to campaign environmental issues, then, within months Russell Coutts and Brad Butterworth also left to form Ernesto Bertarelli's Alinghi campaign. Bertarelli wasn't the first to employ ex—TNZ people, but he ended up with the best.
Shortly afterward Ross was invited to act for Alinghi, which he really enjoyed. "It was a fantastic team to work for; everybody was a world-class expert in their field. Russell is a consummate leader and has a laser-like focus, which he unfailingly maintains for years at a time."
While many New Zealanders were quick to criticise those leaving in 2000, Ross believes there was a misjudgement in valuing hard assets such as yachts and equipment over the people who created and sailed them.
Unquestionably, a fundamental error was not having key personnel contracted past the 2000 AC, leaving those with mortgages and other financial commitments vulnerable to offers by wealthy syndicates.
"The AC can be won and lost over early hiring decisions; like all sport, it's a people game," says Ross. He understands and empathises with their position at that time.
"Those guys weren't being paid what they were worth and suddenly someone comes along offering to set them up for life. Meanwhile, millions were being made by local developers and others benefiting from the Cup in New Zealand. It should never have happened."
In 2001 Butterworth asked Ross to join Alinghi full time. "It was a life-changing moment, but it took a lot of soul-searching to decide."
He resigned his Bell Gully partnership and became Alinghi's full-time legal counsel. One of the things he was involved with was dealing with TNZ's 'hula', an appendage attached to the afterbody of the hull designed to increase waterline length and therefore speed, without increasing the boat's measured waterline length.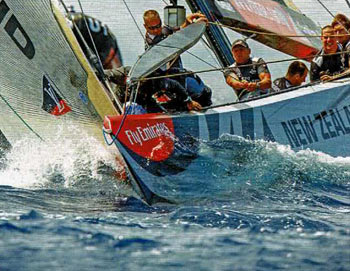 Alinghi quickly tested a hula shape on SUI75 but found it slower and decided the concept wasn't worth pursuing. But the team used the hula as reverse psychology. Pretending to be worried about the hula's potential, every opportunity was taken to question its legality to keep TNZ's focus on retaining the hula. This had major ramifications when Alinghi trounced TNZ five-nil while the fragile NZL82 failed to even finish two of the races.
Ross was straight into action planning for the 2007 AC, eventually held in Valencia. His most important contribution there was drafting and negotiating the Protocol, which eventually distributed a profit to each competitor dependent on where they finished. As the AC challenger, Emirates Team New Zealand (ETNZ) received more than €10 million.
"It'd never happened before — not since — that other competitors received a commercial return from the event itself."
In 2006 Hamish Ross received a phone call that the 1898 Arch Logan-designed Rainbow was up for sale. Realising the yacht was too much for one, a syndicate was formed with David Glenn, Butterworth and the yacht's owners, the Dimmock family, to purchase the dream Logan.
After a full restoration Rainbow was relaunched in 2007 to rejoin her fellow Logan sisters, Ariki, Iorangi, Manna, Thelma, Rawhiti, and Waitangi — the so-called big seven. The syndicate continues to race Rainbow to this day and she's a regular sight at CYA events.
Back to the 2007 AC. While ETNZ performed well, Ross never felt the series was in doubt even though by then Coutts had left Alinghi.
One of the interesting side aspects to the 2007 event was the poor showing of Larry Ellison's Oracle campaign. Possibly partly to divert attention away from this, Ellison instituted a legal challenge against Alinghi, claiming it had violated the Deed of Gift.
It was the most litigated issue in the AC. Twenty-one judges and arbitrators considered the issue; 11 in favour of Alinghi (all eight arbitrators appointed by the sport and three New York appellate judges); 10 (all New York judges) for Ellison.
While the New York courts and its judges were divided, the sport was unanimous in reaching the opposite view. It was a dark, unhealthy period in AC history but Alinghi was not the first foreign competitor to come to grief in the New York Court system. Ross has been working to keep the AC out of a courtroom again.
The upshot was in 2010, Oracle and Alinghi faced off, the former in a wing—masted trimaran, the latter in a catamaran.
After watching Oracle outperform Alinghi during the first leg of the best of three races, Ross turned to others in the team and said: "Better polish your CVs, it's all over."
With Alinghi out of the 2013 event, Ross was looking to have a break from the AC, hut Coutts rang suggesting he help set up the San Francisco event through the America's Cup Event Authority (ACEA).
With a Protocol in place, Ross then joined the America's Cup Race Management (ACRM) led by Iain Murry where he had a bird's eye view of the close-fought 2013 event. He still believes TNZ could have won that event.
Seeking a change, Ross was invited by TNZ rules expert Russell Green to assist as a legal consultant for ETNZ'S 2017 challenge, a role he's still fulfilling today.
After the 2013 AC Ross completed a Master's paper on international shipwreck ownership, which then led to a Ph.D. on the AC Deed of Gift, which he recently completed, becoming Doctor Ross.
Ross is a busy man. Besides being a trustee of the Trust operating Half Moon Bay Marina, the Patron of the CYA and co-owner of Rainbow, he owns and manages Elite Kitchens. He's also writing a book on the AC, which he promises, given his research, will be very different to anything previously published.
And the future?
"Looking for the next hill to climb," was his prompt reply.
Sounds like a plan, Hamish.
PHOTOS COURTESY Hamish Ross, John Macfarlane, John Bertenshaw, Stephanie Creagh Photography and BNZ archives. From Boating New Zealand Magazine, July 2018